At the start of each year, I like to take a few minutes to reflect on all the progress we made in our house in the previous year – and look forward to what we've got planned for the coming year. We tend not to put anything on credit, so careful planning and budgeting is needed to ensure we're able to get all the projects we want to done.
What we got done in 2019
2019 was quite a big (read, expensive) year for us. We ticked a lot of the list:
We had new windows installed in the kitchen and Arlo's bedroom
We had a new consumer unit installed (one of the least thrilling ways to spend money)
We laid a new patio
We got the kitchen done (at last!)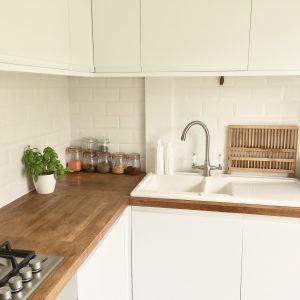 Our new kitchen (pictured) was my favourite project last year. The previous one had been installed in the 80's when the building had been converted into flats, and had seen very little love since. We ripped it all out, and filled our tiny kitchen with beautiful white cabinets and tiles and a gorgeous oak counter top. As it's so small, I wanted to keep all our appliances under the counter tops to maximise the counter space. It's now clean and fresh and filled with light.
What we've got planned for 2020
I've got a long list of home improvements I'd like to make this year, but the three big ones on my list are:
A bedroom refresh. I love the grey paint, but we've had it 6 years now and it's time for a freshen up. Same goes for our bedding.
Install raised beds in the garden. This is a job we've been meaning to do since we moved in; we want to put in some raised beds and plant a herb garden. I've got my eye out for some heavy dark railway sleepers to make this happen.
A new bathroom. The Bathroom is the last fairly big job we want to do. We want to lower the ceiling to give us some loft space. These amazing tiles are my inspiration starting point.