My Story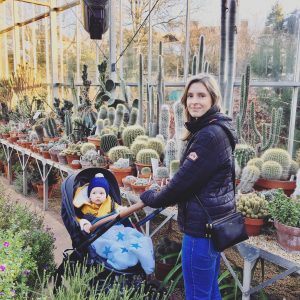 I'm Georgina. In 2018, I left my job in Project Management to look after my newborn son. I should preface this next bit with the fact that motherhood has been the most wonderful and fulfilling experience of my life. I didn't know I could feel the depths of love that I have over the last few months. I know how lucky I am to be able to spend my days with this tiny human we created. Every day he makes me laugh and I am in constant awe of him. That out the way; I also found it hard. Really, really hard.
What got me, wasn't what you'd expect. It wasn't the endless nappy changing, the sleepless nights, the back ache, the tears (his and mine). It was the mental hurdles that took me down. My identity had been so wrapped up in my career, my perceived value tied to my pay-cheque that I didn't recognise myself once those things were gone.
Don't get me wrong; I know that motherhood is one of the most rewarding and most difficult jobs you can do, I also know that I've never worked harder. On top of this, I know that my husband couldn't continue running his business and bringing in our household income if I wasn't at home looking after our son. But I could no longer see my own value. 
So what changed?
One day I heard someone talking about the role of the 'Home Economist' on a podcast I was listening to.  Immediately, this flipped everything on its head. I stopped thinking of myself as 'unemployed' and started treating my new role, at home with my son, running our household as my job. I started to regain some control.
While the amount of money I brought into our house was limited; I could reduce our outgoings by meal planning, negotiating bills, finding deals, mending and making do with things we had.
As weeks and months passed, I found my flow and implemented my own structure. I made sure weekends were as restful as possible. We celebrated Friday nights, and Month Ends. I meal planned, set us household goals, cleaned, budgeted and wrote list after list. I took all my project management skills and applied them to our household.
What does life look like now?
Now I no longer feel like I'm drifting through the week, I have purpose and structure. Our house is cleaner than ever, we eat healthy meals we enjoy. We spend far less money but we live an abundant life. Weekends are restful and fun and importantly, we have time to spend as a family.
I wonder why I never did this before. People put so much effort into their jobs and the companies they work for, ensuring that sales are high, outgoings optimised, processes streamlined. It seems foolish not to apply the same thinking to your household.
Is Life-Organising for you?
I believe everyone can benefit from bringing a bit more organisation, and a bit more simplicity into their lives.
For us, life organisation has resulted in;
More money
More time as a family
More free time
More fun
More exercise
A cleaner home
Healthier meals
Less stress
Less food waste
Less arguments
If any of these benefits appeal to you; then maybe you could improve your life by just getting a little bit more organised.
Let's keep in touch
In the interests of keeping it simple, you can find me on Instagram or you can email me. I'd love to chat.