Since we first put in our offer on this house back in March, I've referred to it as the Christmas House. Don't ask me why, after all, we live here all year round and we moved here during the height of summer. The name just seemed fitting. I love Christmas; the decorations, music, lights, food, family chaos, all of it. I could just picture us so clearly, year after year, putting up our tree, snuggling up with hot chocolate and sharing big family meals around the table.
This weekend I made our Christmas wreath. I know it's early, but I've been looking forward to our first Christmas in this house for months and since it's 2020, anything goes anyway. This one cost me a shade over £5 in total and makes me so happy.
I've made a couple of these wreaths this year. They're inexpensive and fairly easy to make. And, paired with Klaus (my favourite Christmas film), and some mulled wine, make for a perfect Sunday afternoon activity.
What you'll need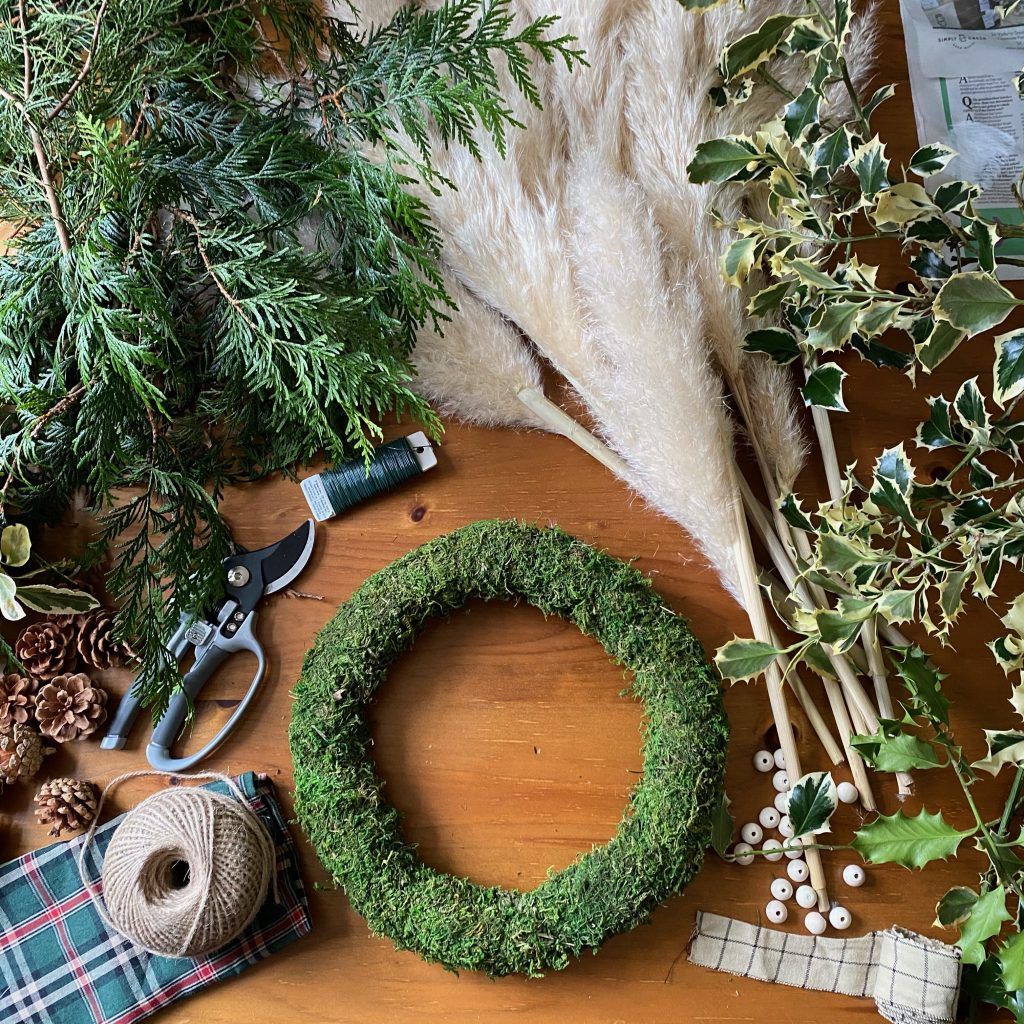 Moss wreath ring. (I bought this one) a bargain at £2.50.
A ball of twine. I had mine already but they're fairly cheap on Amazon or your local hardware shop.
A strip of fabric for the bow
An array of greenery
A note on the greenery, I have been collecting bits all week. The variegated holly came from our garden. The fir from my neighbours. I already had the pampas grass and the green holly came from the woods near our house. (I'm not sure if you're strictly allowed to do this, but it was blocking the footpath, so I thought clipping a few sprigs was probably ok). However, you could use whatever you have to hand, I think bay would be lovely, or anything evergreen really. An alternative might be a more Autumnal wreath made with fallen leaves and twigs. You could also buy your greenery; if I was going to do this, I would have loved to add in some eucalyptus. (But I'm on a no spend month, so I worked with what I could get for free).
How to Make the Wreath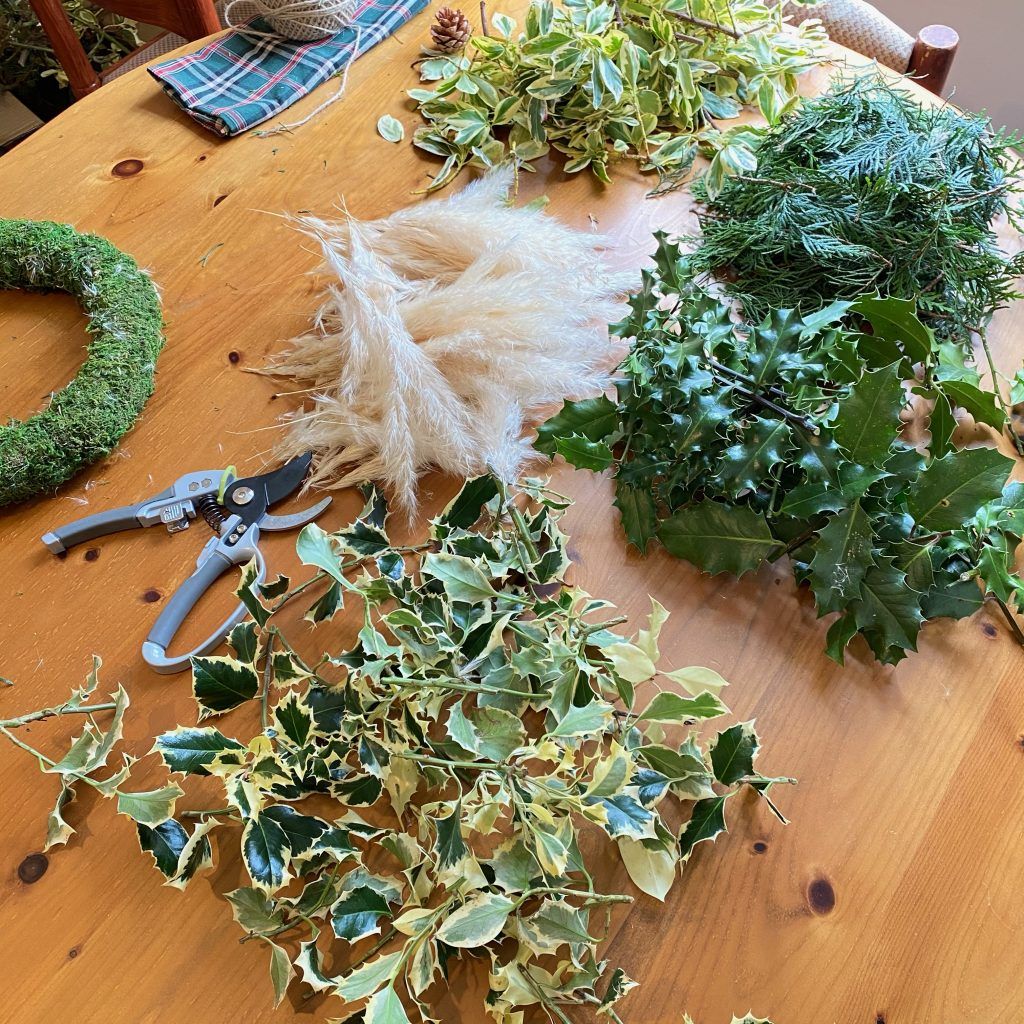 I started off, by chopping up all my greenery into similar sized pieces, each was around 5 inches. I got rid of anything too woody, or without attractive leaves.
Then I sprayed the wreath with water, to make it nice and damp before adding the foliage.
I then tied the end of the twine to the wreath, without cutting it off the ball.
Next, I gathered 3-4 bits of different types of greenery together and held them to the wreath while I wrapped the string around the ends of the sprigs. I continued this technique around the wreath, ensuring I covered the wreath from the inside of the ring to the outside. It's important keep the 'flow' of greenery in the same direction all the way around the wreath. See below video as this is tricky to explain in words. (There's no sound, I turned it off so you didn't hear Arlo saying 'what are you doing with all the broccoli?'.)
Make your way all the way around your wreath, spiralling the string around, until you get back to where you started. At this point you can cut the string and tie it at the back of the wreath to the piece at the start.
If, when you've finished, your wreath looks uneven or lopsided at all, you can just work round tucking extra bits in to even it all up.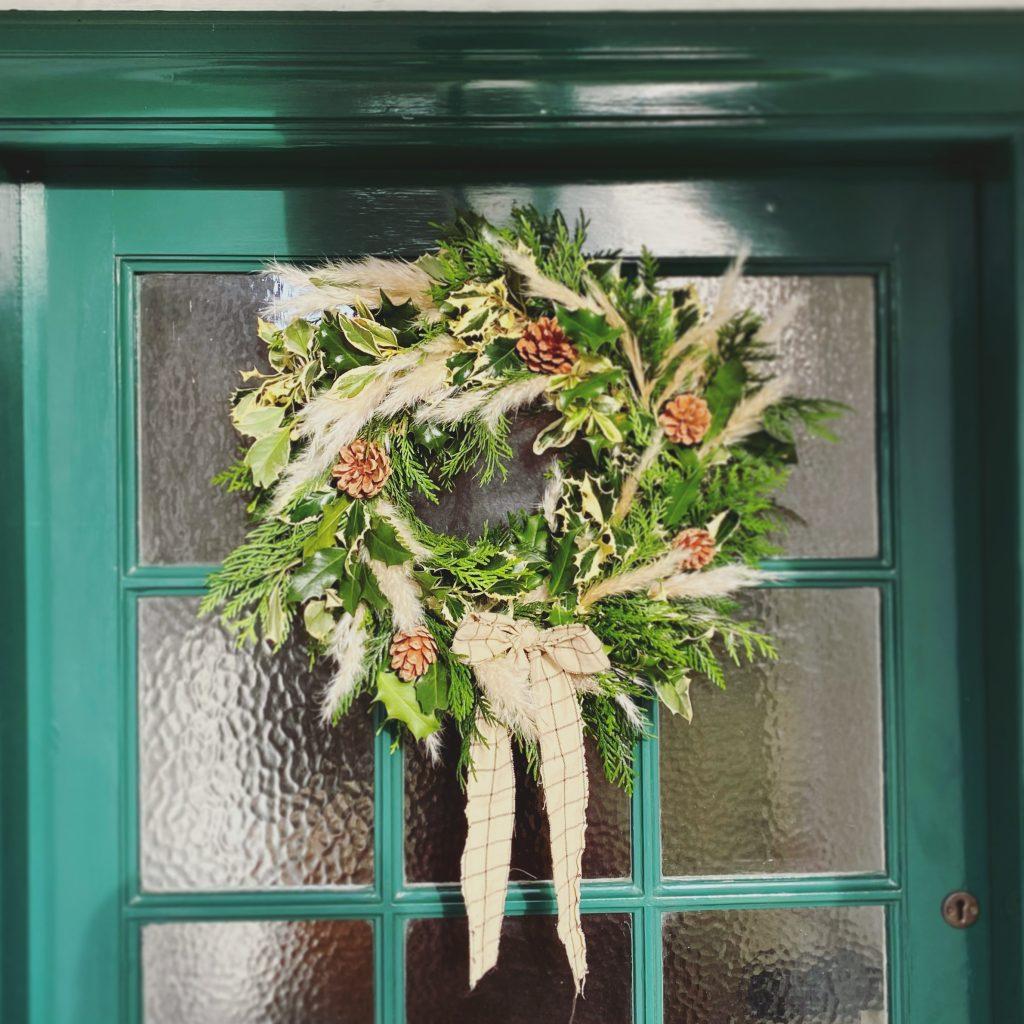 You could just hang your wreath now, but I used the forestry wire to wrap around some the base of some pinecones, and a bow I tied from a scrap of fabric. You just need to poke the ends of the wire into the mossy wreath base, and this should be enough to hold it in place.
Over the coming weeks. I've got various thrifty, low waste Christmas activities to share with you. If you don't want to miss them, keep an eye on my Instagram for updates. If you've got any favourite Christmas crafts or recipes I'd love to hear them, so I can try them out.
*This post contains affiliate links.